Description
Do you love growthhackers.com and how they use post ranking to have their most popular content pushed to the top? Well now you can run your very own growth hackers type website using WordPress with the Epic Hackers Theme MK1.
What does running the Epic Hackers theme on your website give you?
Beautiful front end posting forms that slide into view
Up/down voting from your visitors
Content submissions from your visitors
Articles and Questions post types (split your site content in two)
Keep your users attention by varying content across your website
Have a website that has a similar look and feel to growthhackers.com (check out how it used to look)
Beautiful front end posting
The Epic Hackers theme is great for allowing your website visitors to submit content to your site. Content is king. The front end form lets visitors, when logged in, post content. They can choose between Question or Article.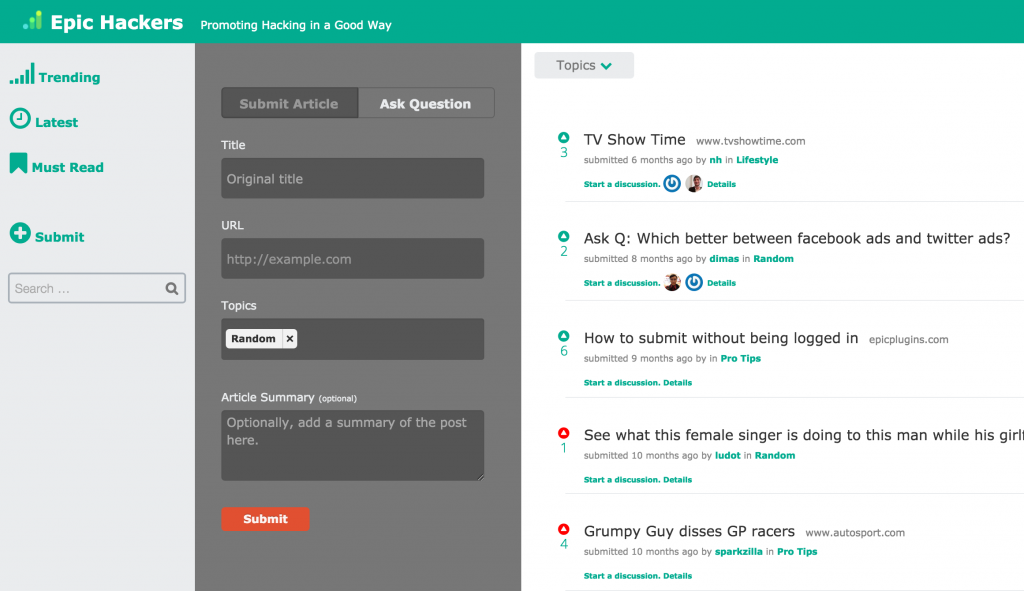 Up/Down voting
The Epic Hackers theme uses the same up/down voting algorithm as the WPeddit Theme. The most popular content rises to the top. This is decided by number of votes and the age of the post.

You can 'Expand' the detail to see a bit more about the Article, as shown below. This keeps the post listings nice and compact without making the user scroll through all the descriptions before finding a post they like the look of.

Content submissions
Keeping your website fresh with new content is always a good thing. The hackers theme gives you front end posting and you can handle both Questions or Articles from your website members. This is great if you want to keep links to interesting articles separate to things like 'What's the best way to grow a website' type questions.
Articles and Questions 
Split content websites are a great way to keep users interest. If they're just reading your blog posts they won't stay as long or return as much. If they've posted a question which gets lots of answers (which they can comment on) then they're likely to return. Splitting your website content between 'Articles' and 'Questions' in the way that the hackers theme allows is a great way to boost the variety in your site.
Theme Features
The Epic Hackers theme is packed with awesome features
Up / down voting on content
Front end content submissions
Articles or questions (custom post types)
Customised theme my login pages
Topics section
Hot posts widget area to display the best content in the sidebar