Description
The Easiest to use, Content Curation Theme
Do you want to start the next big thing in the 'curated web'? With the Plugin Hunt Theme you can do just that!
Keep your website visitors Engaged by letting them submit content to you. Keep your site fresh with new content as your website users comment, vote on and share your content all over the internet.
Start curating and collecting content in your chosen niche using the Plugin Hunt Theme. The ease of voting and commenting on content really makes this Theme stand out – Theme Hunt
You can be up and running in minutes and have amazing curated content which users are raring to vote on, comment on and share with their audiences.
Start curating the next big thing!
Did you see the Product Hunt was recently acquired by AngelList for around $20m?
This shows there is MASSIVE value in 'curated content' websites.  Why not make yours the next big thing and use the Plugin Hunt Theme to help you get there?  This theme gives you:-
A beautiful front end with the ease and simplicity of WordPress as the back-end
Fully customisable colours and four layouts to help your site stand out from the crowd
Super Easy sign up options using Facebook, Twitter or standard login
Engaging content, which is easily shared on Social Media bringing you even more traffic
More traffic = more curated content = a kick ass, cool site.
Some quick testimonials from our users!
The Plugin Hunt Theme gets great feedback from our users. Check out some of the comments we have received on the theme from our users.
Ready to get started with your very own Product Hunt Style website using WordPress?
Buy Now for $79
---
Some of the Theme Features
The Plugin Hunt WordPress Theme is our most popular theme yet. Fully packed with features this amazing theme gives you product hunt in a box, priced at just $79.
Amazing Curated Content
The Plugin Hunt Theme lets you have a website just like product hunt up and running in only a few clicks. Updated regularly this theme is one of the most popular themes that we have created.
Classic and Boxed Layouts
Do you want the classic layout or the brand new boxed design. Easily flip between options for your theme layout. Our Classic view is true to Product Hunts layout but the new boxed version gives plenty of space for adding sidebars and improving visitor navigation flow.
Front End Curated Content
Website visitors join your site and can submit content. Beautiful front end posting forms make adding new content a breeze
 Hottest Content Daily
Keep your content fresh and the most popular daily content at the top of the list. The best way to promote new content to your visitors. With the most popular first in the list you always give your visitors the best and freshest content first.
Beautiful Comments
Commenting can be a drag. With the amazing comment system in this theme it couldn't be easier. Prompt engaging discussions and mention users in your comments.
Collections of Content
With 90% of the worlds data created in the last 2 years, you need new ways to present your content. Allowing people to collect your content is the best way to do this. Visitors can click on the collection icon and create a new collection, and then start adding new content to the collection. A great way to remember products for later viewing.
Flash Post View
Flash Post View is the best way to view content. Load in the full content of a post in the "flash view" and keep visitors on your website longer as they can browse new content without leaving the home page. With social share, upvotes and external links to the product in question, this flash view is a powerful tool to drive people to where you want them to go via the 'GET NOW' button.
Featured Collections
Feature your best collections of content on its very own hub. Drive new visitors through social share and find new ways to have your content rise to the top.
Discussions
A complete new area of your site dedicated to discussions. Allow users to submit products or submit a discussion post. You want to increase user engagement on your website and having the option to enable the discussions section is an amazingly powerful addition to the theme.
The discussions area of the plugin hunt theme is a powerful solution for a forum in itself. It keeps the familiar post discussion feel to standard products but allows slick discussion listings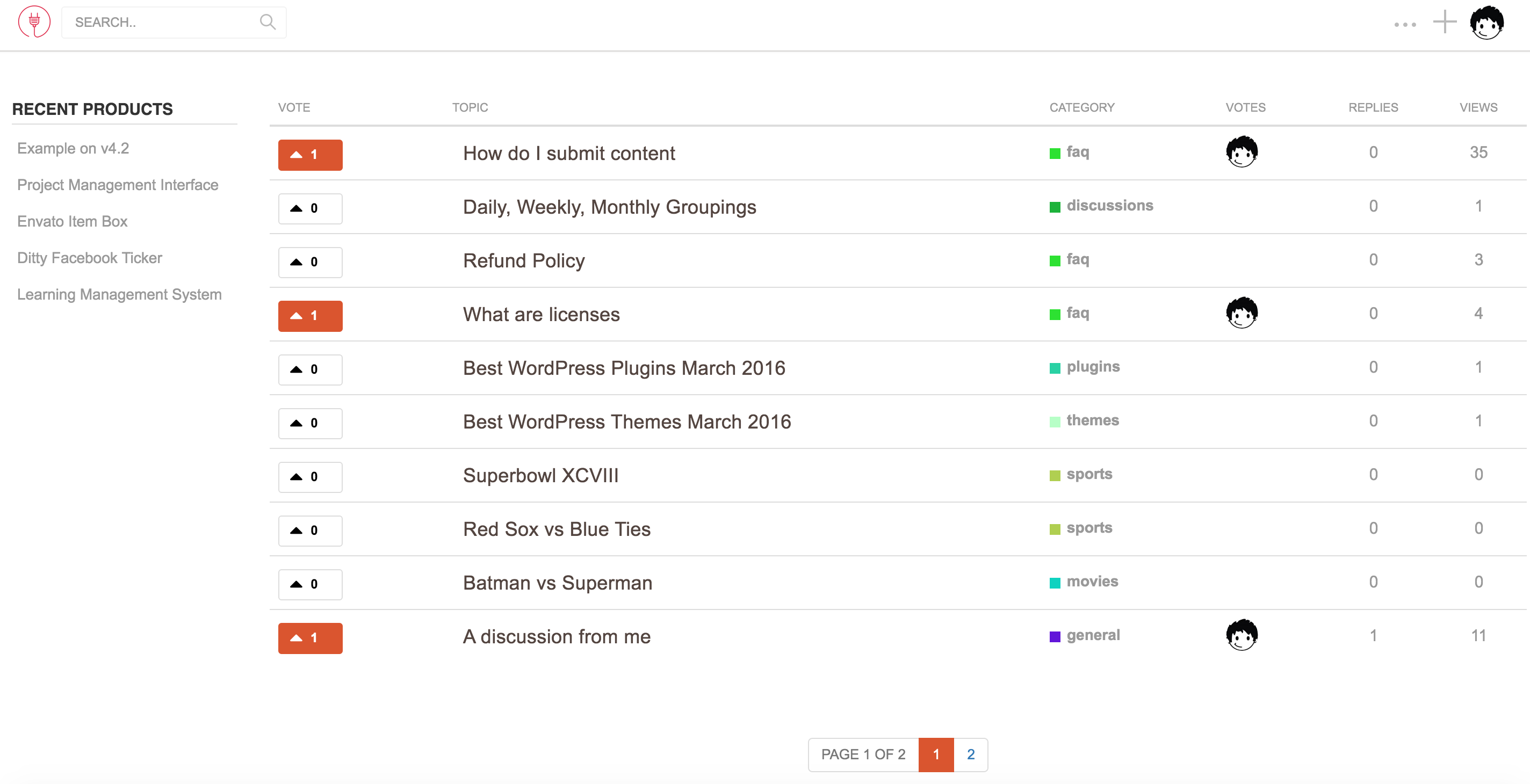 Social Connect
As standard, make it super easy for people to connect to your website via their Social Network accounts. All it takes is one or two clicks and your visitors have an account with your website in seconds. They can then start contributing to your community.
Styled WordPress Login page
Running a website like this, you don't want your community to really twig that it's a WordPress site. No more plain WordPress login. Keep the theme style slick.
If users choose to 'log in normally' they will see this page where they can login, register or reset their password. All beautifully styled.
Invite System
You don't just want anyone commenting and submitting spam to your website. With the WordPress user levels system you can control who is allowed to post content
Visitors can ask to be promoted to a level that lets them post content (or you can default all users to that level) as admin you have full control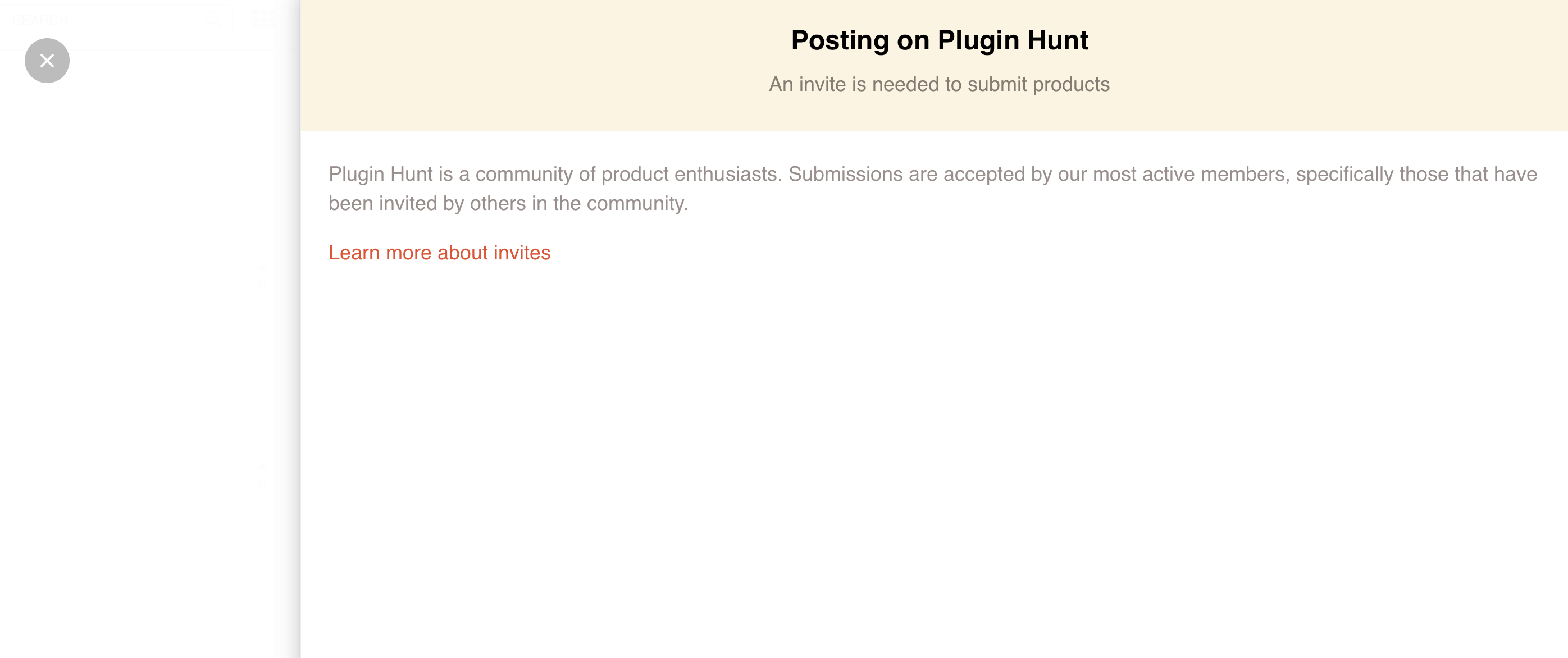 Tons of Options
The Plugin Hunt Theme comes with tons of options for you to control exactly how the theme looks and operates. What could be better.
Admin User Control
See who wants to be part of your carefully vetted community and upgrade members on their request to add comments or even add new content to your website. Flexible and easy to manage.
WooCommerce Ready
..with the new WooCommerce support. You can now sell directly from your site.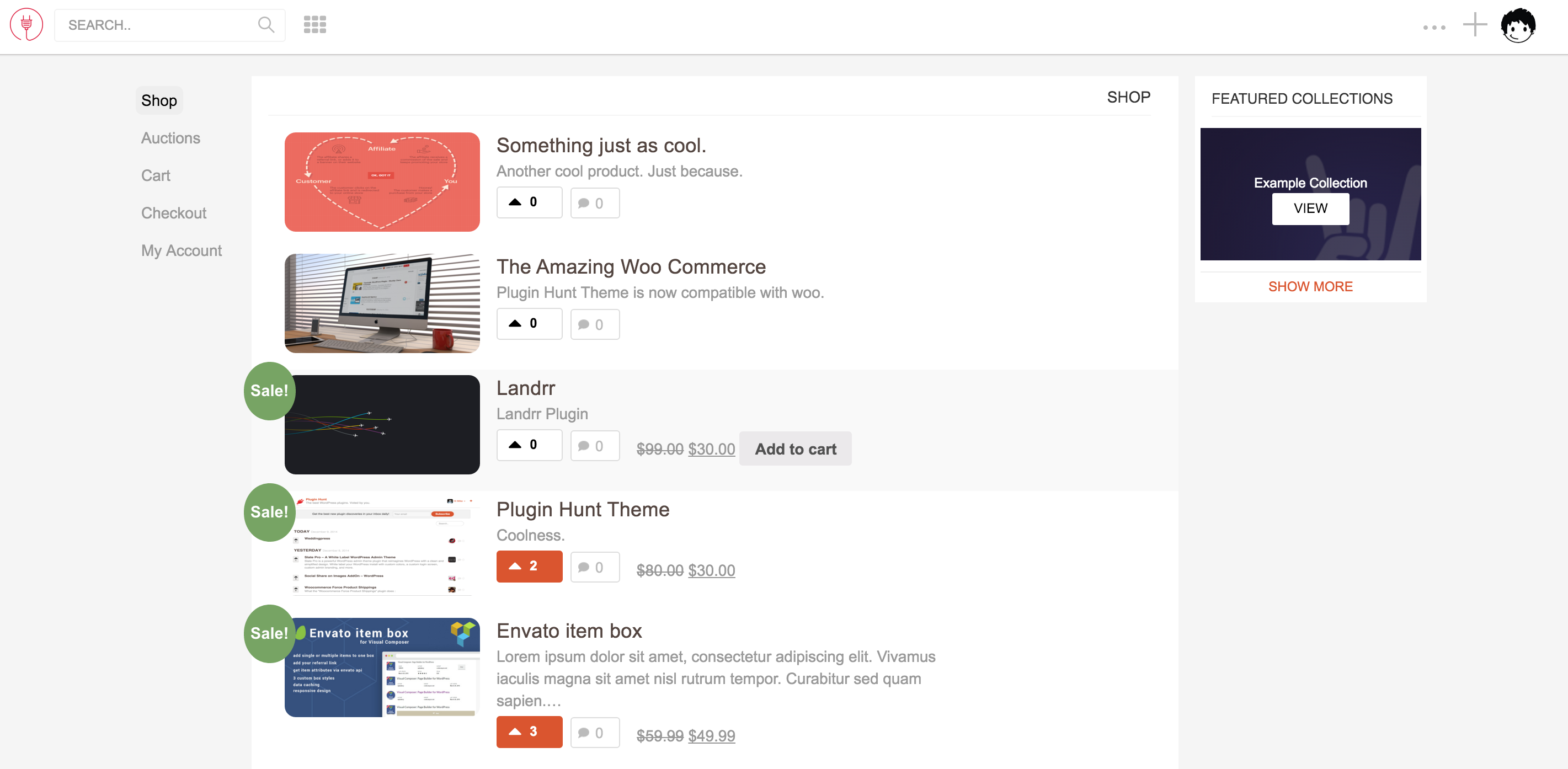 Familiar product list for your Woo Products
Wow. Product Hunt style listings for your very own products! Boost conversions of your products with this slick design. If you run an eCommerce store and want to sell your products using this theme, now you can.
No more boring WooCommerce Dashboard
Out of the box the WooCommerce 'my account' area is a bit meh.. not anymore. The theme completely redesigns this into a tabbed view. No custom coding needed. The theme does it for you (and doesn't ignore that side of WooCommerce like a lot of other themes).
Your Account – styled beautifully. Awesome!
Flick between tabs, see your orders, see your account details and edit them. All in an amazing style.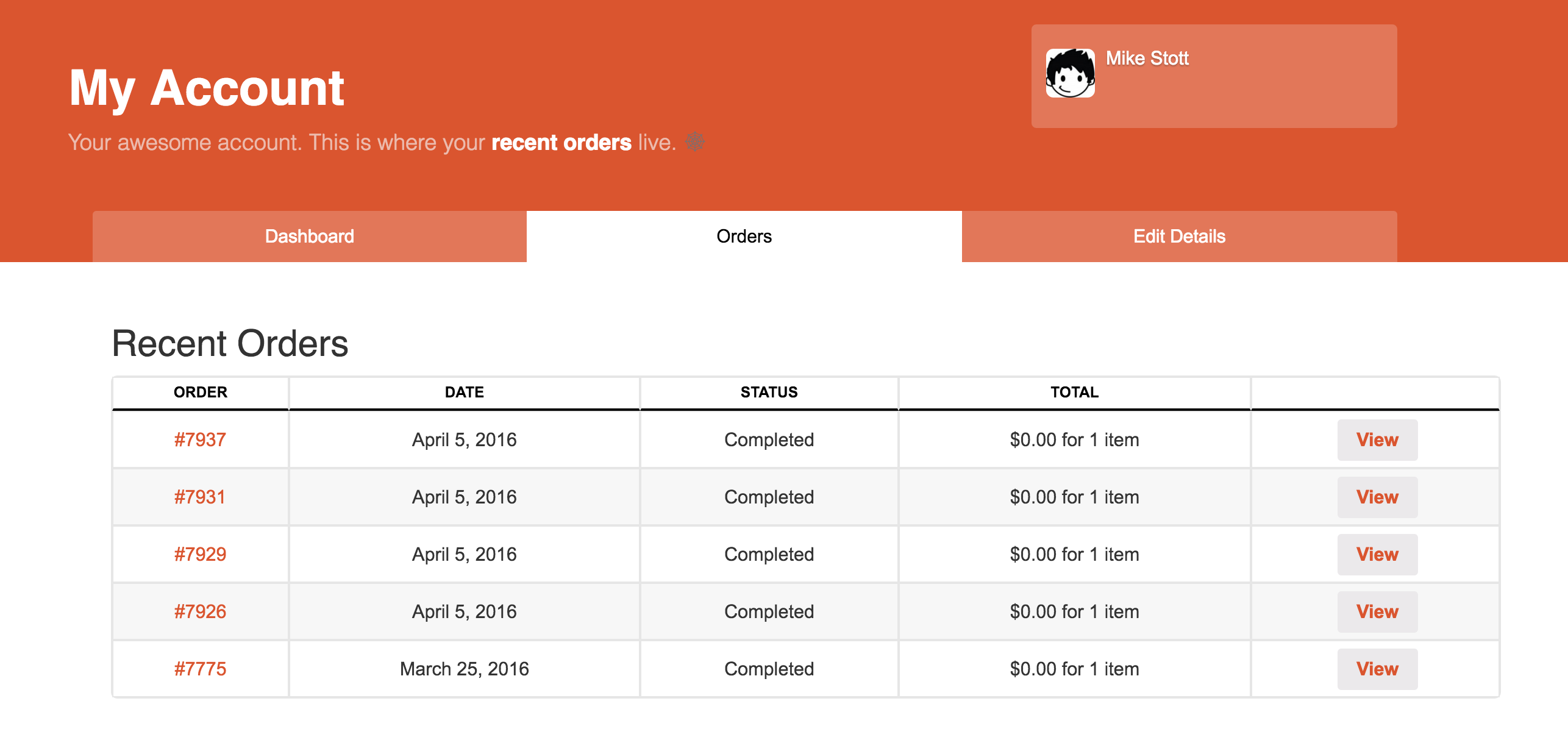 Check orders and re-order
Customers can easily view their order details and re-order in a snap. Fantastic, and incredibly powerful
Packed to the brim with juicy features
Product Hunt Style listings
Social Login
Custom profile pages
Front end posting
Media Slider
Collections
Facebook Share
Google+
Podcast Ready

Easily customised options

Multi vendor compatible

Demo content included

SCSS files included

Custom CSS
Discussion Forum included
Beautiful Blog layout
Ajax comments
Mailchimp integrated
User photo compatible
Media Lightbox
Banner Slider
Follow other users
Invite system
Tweet this

Auction system compatible

Mobile responsive

Child theme ready

…and more on the way!
Beautiful Blogging.
Let's not stop at the content curation side of things. The Plugin Hunt Theme also has an amazingly easy to read and easy to use built in Blog. It's puts the focus on drafting content and helps to boost your website through content marketing.
Way more than just product hunting. The theme comes with a beautifully designed blog. Like many of the features of this theme, the blog alone is worthy in itself of being a theme all on its own!!
What our users are saying
The Plugin Hunt Theme gives you a product hunt style website but using the power of WordPress as the beast behind it. We are using the theme for a new project and we absolutely love it. 5 stars from us.

– Plugin Stack
This theme gives you out of the box product hunt power using WordPress. Epic Plugins have knocked this out of the park such a beautiful, Feature Packed theme. A highly recommended theme. it is soo good.

– @polovecn
This theme has it all. The built in WooCommerce support for selling your products makes this mindblowing. Imagine if product hunt actually sold products direct and took a commission. This lets you easily do it.

– @choblab
Ready to get started with your very own Product Hunt Style website using WordPress?
Buy Now for $79
Frequently Asked Questions
Questions. We all have them. Here's the collection of the most comment asked Questions about the theme
Is this a Theme or a Plugin?
OK, the name is a bit confusing. This is a WordPress Theme. It was crafted as part of a product hackathon weekend I set myself to curate plugins. Hence I titled it a "Plugin Hunt" theme. It's most definitely a theme.
What do I need to get started?
It's as easy as 1, 2, 3
Where is the Documentation?
Following the docs without having the product installed isn't the best route to success. If you're thinking the docs might tell you whether it has feature X or feature Y, then sure read them. We have guides too (covering some of the newer features).
Where can I learn more?
We've written a TON of useful theme guides for the Plugin Hunt Theme. You can also read the Plugin Hunt Theme Blog which gives you product updates as well as useful, traffic gaining tips. Oh and we've got a Niche website guide right here too.
Is there a Money Back Guarantee?
We strongly believe in our theme, and over 500 people (and counting) feel the same way. We don't offer a try before you buy or an admin demo. We have a full walkthrough here.  Kindly review all the material (documentation, guides, walkthroughs) before purchasing.
However, we do understand that sometimes you may purchase by mistake or it not be what you thought it was. If this applies to you open a support ticket and we'll gladly help you through our refund process.
Can I read the Change Log?
Sure. The Change Log is maintained on the demo website here.
We get asked how often is the theme updated and new features are added. You can see from the Change Log that the theme is updated regularly. If you have a feature request or want to report a bug please contact our support team.
We don't just update for the sake of it to play the game of the 'most recently updated'. All of our updates come with real purpose
Does the Theme work with the latest version of WordPress?
It sure does. We test the theme with each new release. If you find any issues or bugs please do let us know via our support channels.
Can I see examples of others using this theme?
Maintaining a list of websites that actively use the theme is time consuming for us. For the best live example you can visit the live (actual real life site, hunting WordPress plugins) at http://pluginhunt.com/hunts. Want more proof that the theme's for you, checkout our additional walkthroughs and our wall of of love.
Is there a Video Walkthrough?
We created a video walkthrough back at version 4.3. Since then the theme has only improved. The walkthrough tours your around the admin area and how the theme works.
How do recurring subscriptions work?
To be able to continue to develop and support the theme we run a subscription based model. This means you pay an annual fee to continue to receive future updates and support. It doesn't mean you have to keep paying to keep using the current version of the theme. The license is lifetime.
But just like a release of a new version of Call of Duty, the fact you purchased Call of Duty 1 doesn't mean you'll get every future version of the game ever. The same goes for this theme. If you want future versions and a continued line to support. Keep your subscription active. You can read more here
How do I contact support?
Do you see the button in the footer? Click it. That'll open up the line to support
Ready to get started with your very own Product Hunt Style website using WordPress?
Buy Now for $99